Judo
Student of Miras International School in Almaty Alan Shugushev has participated in a city-wide judo tournament and won 2 place. From the bottom of our hearts we congratulate him on that and wish him new victories!
Our champions
Primary school students Imanbai Alizhan (3A) and Imanbai Amirzhan (5B) took part in the winter competition on UCMAS mental arithmetic international programme.
Imanbai Alizhan took the 3rd place, having shown a high result in "Visual Competition - Intermediate A."
Imanbai Amirzhan took the 3rd place in "Visual Competition - Intermediate A"
and did the 2nd place on Listening Competition in English.
It should be also noted that Imanbai Amirzhan has made sport achievements.
Amirzhan took part in the open tournament on Taekwondo (WT) among children,
cadets and juniors. He won the honorable 2nd place in the age division of 12-13 years old.
We are happy with and proud of our students' achievements.
Networking with Aga Khan Academy in Mombasa, Kenya
In our school, we begin to teach international-mindedness and global citizenship to the young learners. The students understand that different countries have different languages, systems, cultures and traditions that every individual needs to respect and support.
The Kindergarten students had a networking with the students of Aga Khan Academy in Mombasa Kenya yesterday, November 29, 2018 at 13:30 in the afternoon here and 10:30 in the morning there. Our students were risk-takers, they shared the theme that they inquired and the attributes of the learner profile that they applied.  They spoke in three languages namely: English, Kazakh and Russian and some learned Korean words in support of the current school cultural event. While the other school spoke in English and Kiswahili. It was very interesting for the students. Both schools learned professions and counted in their languages and repeated each. Both schools sang songs and recited poems. The students enjoyed their communication with each other. This activity is an evident of our school objectives: Unity in Diversity.
We would like to thank the school through Ms. Annia Dear, who was the connection in there. Asante Sana! (Thank you!)
The Championship JEET KUNE DO-2018
On November 25, 2018 there was the Open Championship JEET KUNE DO-2018.
Student ofMiras International School Miriyam Batalova participated in the division 28+ and took the 2nd place of honor.
From the bottom of our heart we congratulate and wish her further achievements!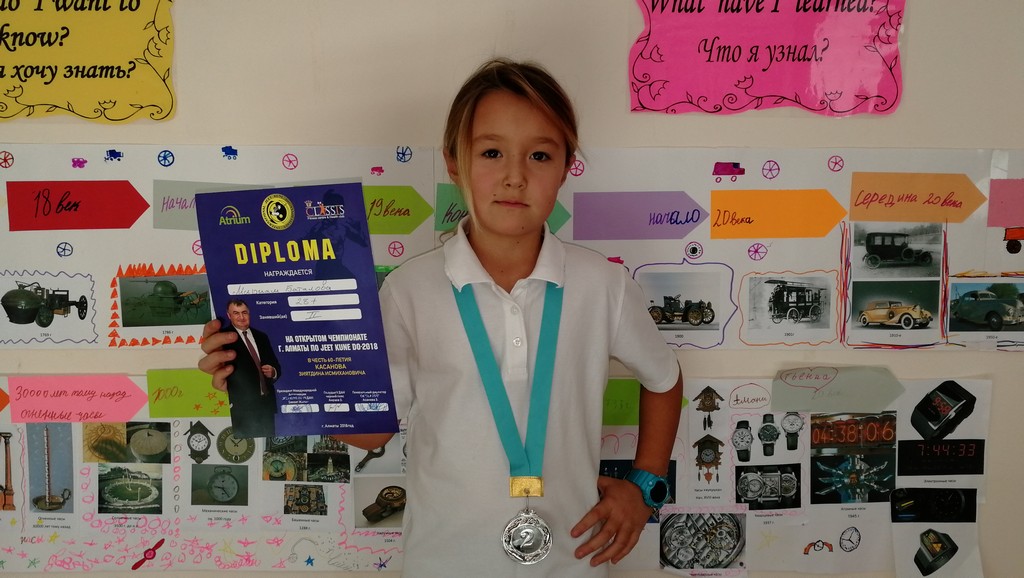 6D Performs International Mindedness Activity in November
In keeping with the IB learner profile (communicator/knowledge), the 6D homeroom accepted an invitation from a school in Inez, Texas, United States to write a letter explaining all of the activities a student could participate in while attending school in Almaty, Kazakhstan.  This was not only a lesson in how to write a letter, but also a lesson for the students in Inez, Texas, who would learn about the geographical location of Kazakhstan and the variety of activities Almaty has to offer.  The letter and Stanley will be mailed back to the school in Texas with pictures of Stanley and the students.  Once the school in Texas has received the letter and pictures, they will place both on a map in order to teach the students about geography.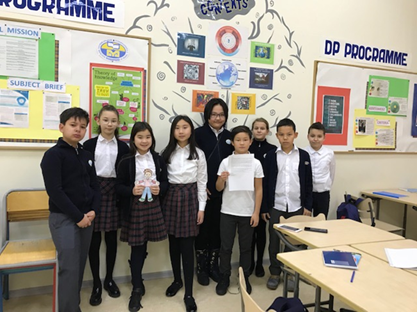 The International Interdisciplinary Olympiad
From 2 to 9 November 2018, students of Miras International School took part in an international multi-disciplinary competition in the city of Lloret de Mar, Spain. Our students have won 18 prizes.
     Subject – Mathematics:
Nakisbekova Malika, Grade 9D – 2 place
Stetch Aleksander Kamil, Grade 7D – 3 place
Kalugina Sofiya,  Grade 8А – 4 place
Bulatova Sofiya,  Grade 8А – 4 place
     Subject - English:
Nakisbekova Malika,  Grade 9D – 1 place, Category С1
Shabdar Aruzhan,  Grade 9D – 2 place, Category С1
Shin Adelina,  Grade 10D – 2 place, Category С1
Yemeliyanova Varvara, Grade 8D – 2 place, Category В2
Kaishibayeva Alken,  Grade 8А – 2 place, Category В2
Kalugina Vasilisa,  Grade 10А – 2 place, Category В1
Medeuova Aisha,  Grade 9А – 2 place, Category В1
Li Amaliya,  Grade 9D – 2 place, Category В1
Bulatova Sofiya,  Grade 8А – 3 place, Category В1
Sidelkovskaya Nastiya,  Grade 9А – 3 place, Category В1
Nurbekov Alisher,  Grade 8А – 3 place, Category В1
Tustykbayeva Amina, Grade 7С – 4 place, Category В1
Abdildabekova Aksulu, Grade 7С – 4 place, Category В1
Bezverbnaya Yelizaveta, Grade 9D – 4 place, Category А2
Participation in such kind of competitions enables students to show their knowledge and skills (English), socialize with their peers from other countries and visit historical places, museums and parks of Spain.
We wish them further victories!
Autumn Inspiration
In our school there are many wonderful initiatives designed to detect and implement our students' creative potential. One of them is the issue of Miras Times magazine. In November, it will delight its readers with poems about the autumn in different languages, philosophical thoughts on the works of Leo Tolstoy (for 190th anniversary of the writer's birth) and news about children's hobbies.
We invite all talented and brave children to publish their works in the upcoming edition.
Miras Times Editor  
Nataliya Kenevich