Movie night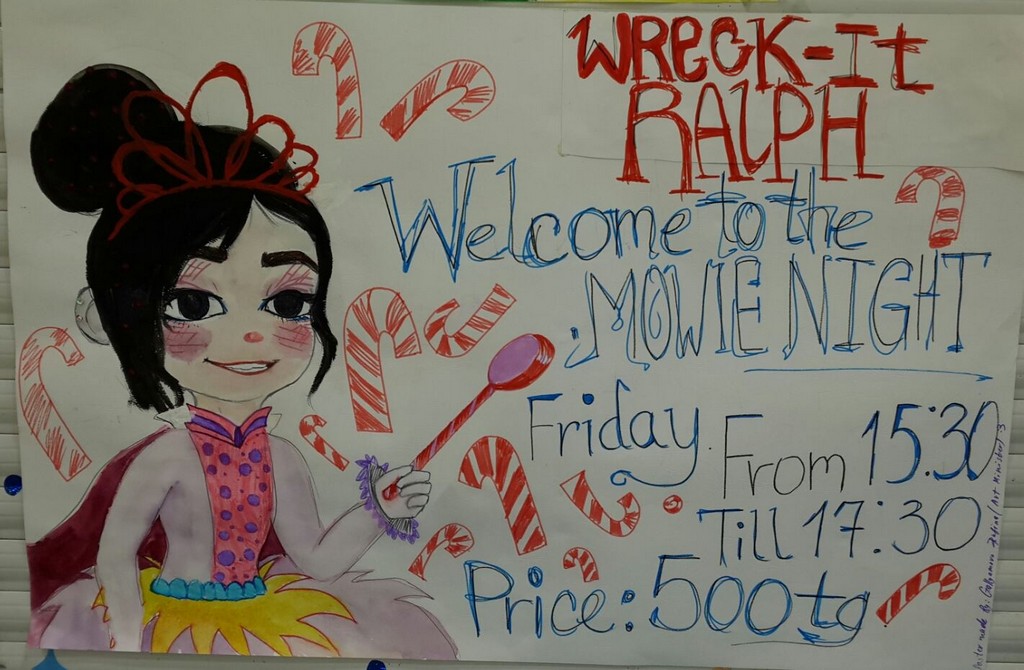 The SS Student Council organize for students a movie afternoon on Friday December 9.
The movie is titled: "Ralph" and is in Russian with English subtitles.
The movie will start at 15.30 (3.30pm) and finishes at 16.30.
Tickets are 500 Tenge and will be on sale at the theatre door at 15.15.
Drinks and food is 500 Tenge.
The money raised goes to the oncological children's center.
Primary Principal Letter
Dear Parents and Students,
Welcome to Semester 2 in the Primary School. We are very pleased to see all the students returning refreshed and ready for the next stage of their learning.
Upcoming Events in the Primary School:
JANUARY
Tuesday January 17: PTA Meeting at 14.30 in the EAL Homeroom on Level 2.
Wednesday January 18: Preschool Parent/Teacher Conferences
Thursday January 19: Preschool Parent/Teacher Conferences
Parent Workshop: "Understanding the Reports".
There are two sessions available - 8.15am and 14.30
Thursday January 26: Principal's coffee morning at 8.15 – 9.00.
FEBRUARY
Wednesday February 15: Parent/Teacher Meetings for KG – Grade 5.
MARCH
Wednesday March 8: International Women's Day
Please be aware that sometimes dates may have to be changed to accommodate other activities. We will endeavor to notify you as soon as any changes are known.
Principal Coffee Mornings: These meetings are an opportunity for you to come along and discuss any queries, concerns or suggestions you may have to support your child's educational progress. The next one is on Thursday January 26, 2017 from 8.15 – 9.00. All welcome.
Absences and tardiness: Your child and other children's learning can be greatly impacted by time away from school and this can also result in poor academic progress. Please keep this in mind when you are planning vacations or weekend trips.
Uniform and Electronic Passcards: Students also need to be wearing the correct school uniform and must have their pass cards with them to enter the school grounds. If you need any further information about any issues, please contact the Primary School office.
We thank you for your support and look forward to continue working together during the year.
Sincerely,
Annia Dear
Primary School Principal
UNESCO Associated Schools festival
On September 24 students of Miras International School in Almaty took part in a UNESCO Associated Schools festival dedicated to the 20th anniversary of the UNESCO Associated School Project Network.
World Championship. Silver medal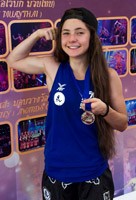 Anna Khachatryana student of 9 "A" grade, at Miras International School Almaty, won the silver medal in Thai boxing of the World Championship.
She has been competing in Thai boxing for fouryears. Anna always strives to cope with challenges.
We are very proud of Anna Khachatryan and wish her all the best and successful achievements!
45 - TOP GRADE IN DP- WELL DONE, KAMILA!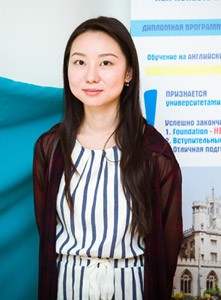 The May 2016 Miras DP exam session brought wonderful news. Kamila Abdrassilova scored the maximum possible number of points in DP – 45! To understand the significance of this achievement, we present you with two facts. Previous Miras record hold by Aizhan Uzakova since 2012 was 40 points. In May 2015 session, around the world, only 0.3% of the DP candidates, or 216 students, scored 45 points.
We all new Kamila would show excellent results, her predicted grade was impressive 44 points. But this charming little girl proved that sky is the limit once talent is supported by the hard work, and did even better. When one thinks about Kamila, the IB Learner Profile is the best way to describe her personality.
First bell ceremony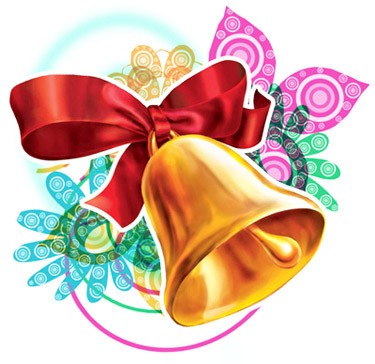 Miras International School is looking forward to seeing you at the First Bell Ceremony.
This event will take place on Wednesday , August 31.
Time: 08.30a.m.
The schedule
8.00 - 8.25- students arrive at school.
8.30 - 9.10- First Bell Ceremony.
9.15 – 10.00 - Homeroom meeting.
10.00 – Students leave the School.
Art exhibition of students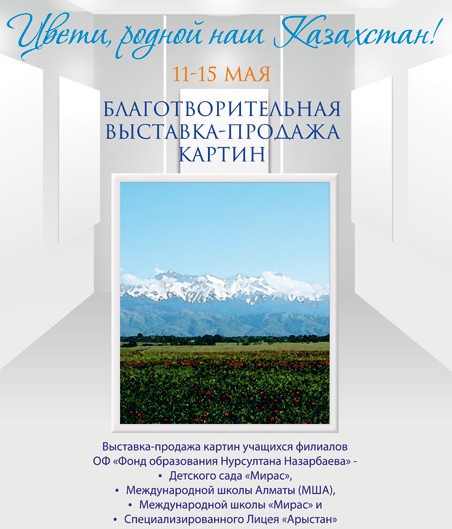 An art exhibition of students from the NursultanNazarbayev Foundation Schools: Miras Kindergarten, International School of Almaty, Miras International School and Arystan Lyceum, during which students' paintings will be sold, will be held from 11 to 15 May in Mega Alma-Ata 2 Mall.
All the raised funds will be donated to a project of the charity foundation "AYALA" – "ART THERAPY" which is aimed to equip an art studio of Special Boarding School #5 for students with special needs in Saran, Karaganda Region.
Everyone is welcome to take part in it!