Birthday Celebrations
Dear Parents,
Education within a safe, secure and healthy environment is the primary goal of our school. One of the milestones each year for your child is celebrating their birthday. We recognize that your child's birthday is an important event for both you and your child.
Currently, in the preschool, kindergarten and primary school, if you wish to celebrate your child's birthday at school, you need to inform the Homeroom Leader and school doctor and complete an application form a week beforehand, so together you can discuss the menu and activities. Birthday celebrations are to be kept to a maximum of 20 minutes and are held in their snack time only for the students in that class. In preschool and kindergarten, the celebrations are held in their cafeterias.
In the primary school, permission from the Vice principal and head of the cafeteria is required to organize a small celebration during snack time in the cafeteria. Birthday party celebrations at school are only for the students and their classmates. We do not have children share bags of candy or food. Your birthday party at home is the perfect time and place for these.
No other activities, entertainment or visitors are permitted at this time.
We appreciate your support and understanding as we continue to provide all students with a safe and healthy environment.
NEWS FROM THE PRIMARY SCHOOL: PARENT INFORMATION MEETINGS

All meetings for Grades 1-5 will be held in the Primary School theatre starting at 3.45pm
Monday September 11: Grades 1,2 & 3.
Wednesday September 13: Grades 4 & 5
Thursday September 14: Preschool in the Music Room starting at 2.00pm
Friday September 15: Kindergarten starting at 3.30pm
First bell ceremony 2017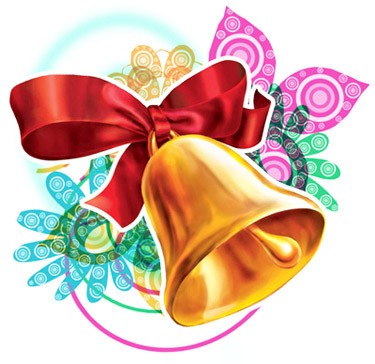 Miras International School is looking forward to seeing you at the First Bell Ceremony.
This event will take place on Thursday , August 31.
Time: 08.15a.m.
The schedule
7.45 - 8.10 - students arrive at school.
8.15 - 9.00 - First Bell Ceremony.
9.10 - 9.50 - Homeroom meeting.
9.50 - 10.20 – Students leave the School.
Yearbook 2017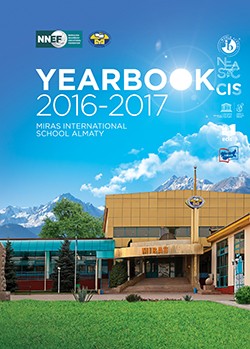 Dear parents, please be informed that Miras International School Yearbook 2017 is available. You may get it from the office-manager, Nazym Oman. The cost is 4 500 Tenge.
Sincerely yours, School Administration.
Cultural collaboration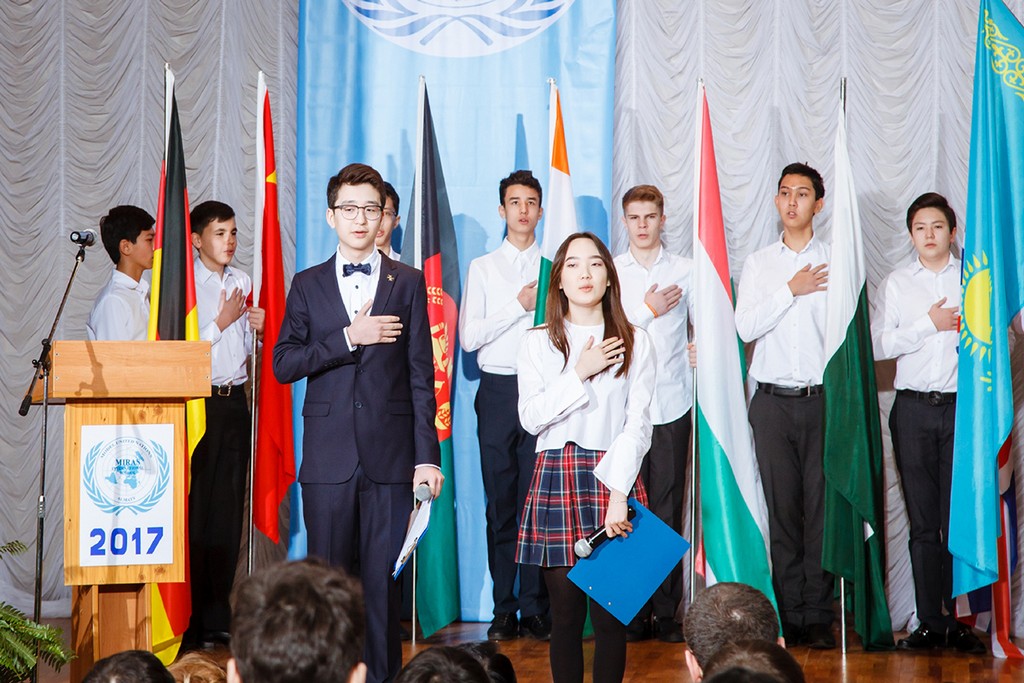 Cultural collaboration between Miras International School and the General Consulate of the Russian Federation covers different areas of creative activity.
The representatives of the General Consulate of the Russian Federation are frequent visitors of this school. Both Miras teachers and students like to attend the events of the consulate. Such a mutual collaboration enriches and expands our social life. In this article, we would like to tell about some vivid joint events that took place in this academic year.
November 23, 2016 in the Russian Federation Consulate there was a presentation of the book, "The Sugar Child" by the Russian writer Olga Gromova. This book tells about the children of the 30s of the last century. Many Kazakhstani fans of the book (including the teachers of our school) attended the Consulate General of Russia in Almaty to meet with the authoress.
November 25, 2016 the Consulate General of the Russian Federation there was a gala night, dedicated to Mother's Day. Mother's Day, celebrated in Russia on the last Sunday of November, demonstrates in the best way the society's attitude to a mother-woman, who through everyday labor ensures the future of the world, which we live in. This event was attended by our teachers as well.
January 25, 2017 the students and teachers of Miras International School took part in the Russian Almaty Consulate's evening event, dedicated to the memory of Vladimir Vysotsky. We prepared numbers for the evening: Class 9D student Aigerim Mukhit read Vysotsky's poems; Class 9A student Anna Khachatryan performed "The Song of a Sentimental Boxer" in a touching manner. Her performance was excellent; everybody joined her in the song. It is good that there are so many admirers of Vysotsky's compositions at school.
March 8 in the foyer and hall of the General Consulate there was an exhibition of Miras students' art works. Our students' works have decorated the Consulate's evenings many times. We always receive a good feedback, because our guys' works are constantly interesting and new. Many paintings have a very deep philosophical meaning while their palette of colors is rich and bright!
The Consulate is not only place for our collaboration. Irina Pereverzeva, the consul of the Consulate General of the Russian Federation, is a frequent guest of our school. She visited an important school event - the conference, "Model UN" on February 23-25, 2017 with gifts from the Rossotrudnichestvo mission to the Republic of Kazakhstan for the school library. These were the books by Russian classics as well as the textbooks on Russian language and literature.
This annual international conference on human rights MISMUN-2017 (Miras International School Model United Nations) was the tenth in succession. The conference was attended by 230 students from the schools of Almaty, Karaganda and Moscow. The MISMUN Conference is a large-scale role game in which senior school students try to be in the role of diplomats from different countries and to model a real work of the UN. This event is very significant for the school because it is attended by official diplomats and the staff of embassies and consulates. Students have a unique opportunity to meet these people in person.
On April 28 a literary hall at the Consulate General of the Russian Federation was dedicated to the 130th anniversary of the well-known children's writer Samuel Marshak. This evening the literary hall was attended by special guests: a teacher, a translator, the leader of the big international project, "Teatralny Karmanchik," Russian woman Julia Eldaroff, living and working now in Turkey. She together with her students prepared a program that has no analogues - the performance of Samuel Marshak's poems in eight languages. The Russian language and literature teachers of our school were at the evening. For them, this event was especially interesting because this school is distinguished by great cultural diversity and therefore multicultural education is vital for our multinational school, in which different cultures interact with each other. The mission of our school is aimed at the development of a personality who has a creative and critical thinking, the sense of understanding and respect for other cultures, a socially global vision and the skills to live in peace and harmony with people of different nationalities, races and beliefs. The teachers made a note of the event.
We have been collaborating with the Russian Federation Consulate for a long time. These cultural and creative ties open new opportunities for us to work together.
PS events coordinator,
Elena Holina
My Miras (citations from students' works)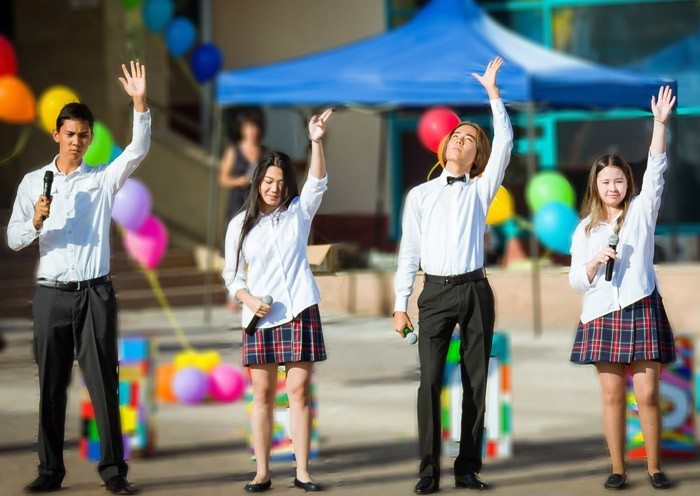 This school is unusual. Miras is of the school of heritage and dignity. I have never seen such a school; it is of kind adults and cheerful children! I want to say "thanks" to those people who found such smart and talented teachers!
Dan Malov, 6А class
When I first came to the school, I made many friends straight away. I feel how they support me. I felt Supported by them. Education is very good here. I do not want to change schools. At my school we have the most talented, intelligent and sympathetic teachers. I decided that Miras is not just a school – it is our second home!
Aidan Mussin, 6А class
... During my time at this school, I have unlocked myself in many ways. I developed my teller in sports and music. My school helps me to learn many new things! Miras for me is like a big family!
Saruar Sakenova, 6А class
... Our school is like a nest full of chicks! Here we grow up! From here we will take off and experience adult life!
Adelina Shin, 8А class
... thanks for giving us a well rounded education. All subjects at school are important to me. A school is a place where a man gains experience in order to let his ship float freely. All teachers at this school are talented, understanding and supportive.
Torebek Altynai, 8А class
Everything here is native...classes and walls, familiar faces, melodic bells and noisy breaks. I know I will miss our kind teachers and friends. It's time to enter a new life for me!
Tomiris Abessinova, 11А class
Being in Grade 1, I did not even think that it would be so difficult for me to say goodbye to the school! Leaving Miras, I feel how much I have become understanding, caring, open and decisive. These 11 years were cheerful, interesting and inspiring! Thank you, my Miras!
Christine Panina, 11А class
I am studying at Miras school. In my opinion, it is one of the best schools in Almaty. The school is very big and beautiful. It is like my second home. Comfortable classrooms, spacious corridors and vast area on which there is a place for everybody. Kind teachers educate us, their creative approach to the lesson motivates us to learn a lot. All students here are friendly and lend a helping hand. Picturesque landscapes outside the windows charm eyes.
Kamilla Kabdrgaliyeva, 8А class
I would like to thank my mother for enrolling me at this school. Here I am learning about the whole world!
Diyara Hamitova, 6А class
I believe that Miras school the ideal modern school. It is the platform for our future life achievements.
Dmitry Suvorov, 11А class
National contests for "mental arithmetic"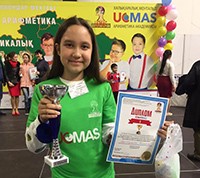 Grade 3D student Angelina Tulepbergenova of Miras International School Almaty took the first place at the national contests on "mental arithmetic."
Angelina has been learning mental arithmetic since September 2016. She had already won a city competition. Congratulations Angelina!
We are fortunate to have such talented and successful children at our school.